---
ASN Network - Union of Akarea - 02-11-2021


AKAREAN SUPER NEWS
BREAKING NEWS FROM ACROSS THE UNION, 24/7




"Large Sections" of Fujing Subway "Underwater" as 2016 Monsoon Season Begins




Yu Lien, ASN Correspondent in Fujing - 11/02/2016 13:31 AST



The FTA has confirmed that "large sections" of the Fujing Subway are flooded as the 2016 monsoon season reaches the central regions of the Union.

Continued failures for the FTA to implement more reliable flood prevention infrastructure has directly resulted in the large amounts of water collecting in the underground tunnels of the network. Service amendments have been put in place on over 33 of the Subway's 114 routes, with 6 routes completely closed. These include key lines that serve heavy tourist and business destinations, including ward G and the hyperdense wards.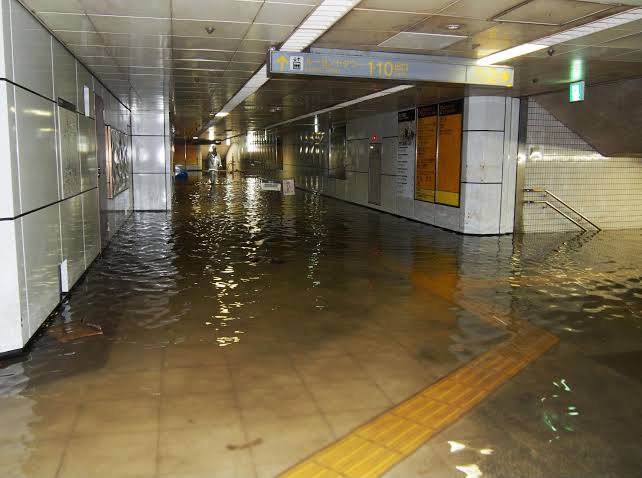 The FTA claims that measures are being put in place to mitigate the damage to the railway infrastructure and that they aim to have these routes running services again within hours and days rather than the estimates of weeks and months initially provided by the city Police. The public is sceptical.

"I use the Subway all day", said Xi Ming, 19, a takeaway delivery carrier who uses the Subway to make rounds. "If I can't serve the hyperdense wards, it's only a handful of stations but they're Fujing's biggest and there's millions I can't deliver to anymore."

Countless citizens of deep Fujing have expressed their dismay at the situation, saying that the lack in services will cause people to lose money, and possibly even their jobs. There have been calls for FTA to reimburse affected commuters for the costs caused by the floods. The FTA refused to comment on this.

In the meantime, the other transport offered in the city, including FTA trams and buses as well as buses and taxis offered by other organisations and companies have observed a considerable increase in load.

"The trams are designed to feed the subway. They're not supposed to actually carry people long-distance, they just don't have the capacity. I waited for 8 trams but each one was completely rammed by the time they reached my stop, and I mean there were people hanging off the outside. Eventually I relented and took a taxi, but even then I had to wait for nearly an hour for a free cab." Tai Yong, a lecturer at Zhousei University in Sun Yan who was visiting the capital for work purposes, explained that the delay caused him to be several hours late for an incredibly important meeting. "This is affecting my students in Sun Yan, hundreds of miles from the capital. This flooding is having a nationwide impact."

Up to date travel guidance from the FTA can be found online at fta.co.ak.

Stay up to date with the situation as it develops with ASN: Download the app today! www.apps.cyb.org/asn


---
RE: ASN Network - Union of Akarea - 02-12-2021


AKAREA SUPER NEWS
BREAKING NEWS FROM ACROSS THE UNION, 24/7




Akarea's Silence Questioned as the World Turns Against Meltor




Kuyuk Toghaimur, ASN Geopolitical Columnist - 12/02/2016 12:11 AST



As the world turns against Meltor in light of the discovery of an industry built on human rights abuses, citizens and politicians throughout Akarea are asking what will happen next.

The Kingdom of Candanadium is leading the rebellion against all things Meltorian; Akarea being Candanadium's longest and most reliably ally, many are beginning to wonder how - and more importantly, when - Akarea will get involved.

Events related to the Meltorian human rights crisis reached the public spotlight in Akarea yesterday when Fujingese internet giant Taitou restricted access to Taitou Feed and services provided by Taitou Search for official Meltorian accounts. Insider reports suggest that Taitou is planning to block all service to Meltor in the coming days. When asked for comment, Taitou referred ASN to the statement they published yesterday which states:

"As the world's largest social media platform, Taitou has a duty to set a global example. We are shocked and disturbed by the state of affairs in Meltor and will be distancing ourselves from the nation.

"Meltorian official accounts will still be allowed to post to Taitou in the interests of public availability of important information. However, interactions with these posts will be restricted. You won't be able to vote on, reply to or republish them.

"We'd like to thank you for your solidarity and support with this cause."

In the hours since this statement was published, over 40 posts from Meltorian corporations and government accounts have been restricted. This has not stopped the Taitou community from reacting to the posts.

"I feel sick." posted user @cumonmyface, quoting another post from the KonigstadtChronicle which referenced one such restricted post.

Another user, a political activist Li Tao, translated KC coverage of the unfolding crisis into two of the four Akarean languages on his blog, posting links to relevant pages on Taitou.

"Akarea's inaction has me restless. I'm disturbed knowing that there's millions of workers in Meltor subject to such awful conditions. I'm doing all I can to help in my current position, which is translate articles and get word circulating around the Union." Li Tao has been blogging about international politics from his apartment in Hyehae for over a decade, occasionally contributing to Akarean public publishers as an opinion columnist and internet culture reporter. He says the influx of traffic to his blog is so huge that Blogzone, the service hosting his website, emailed him asking if he could start posting his content elsewhere to reduce the load on their servers. "The Akarean people are clearly concerned. We need action, and soon."

ASN government correspondents and government press agents refused to comment. Some are choosing to interpret the government's silence as evidence that they are taking a calm, collected and careful approach to their next moves. Others, however, are concerned that swift and decisive action is needed.

"The current international political climate is, you know, we're all clearly raising our heads and preparing to confront the Meltorian abuses." Pran Mookjai, a local councillor for the town of Zhousei in Sun Yan, shared her concerns. "When will Akarea, the closest Kaltach Union member to Meltor, stop sitting by idly and engage this global enemy?"

Stay up to date with the situation as it develops with ASN: Download the app today! www.apps.cyb.org/asn


---